In just their second year of existence, the Turlock Hornets Youth Football team has made strides and heading into year No. 2, the goals and expectations seem to be growing overall. 
From the Junior Novice, Novice, Junior Varsity to Varsity levels, all four are ready to hit the field, as the second week just concluded from Walnut Elementary, where the practices have been held.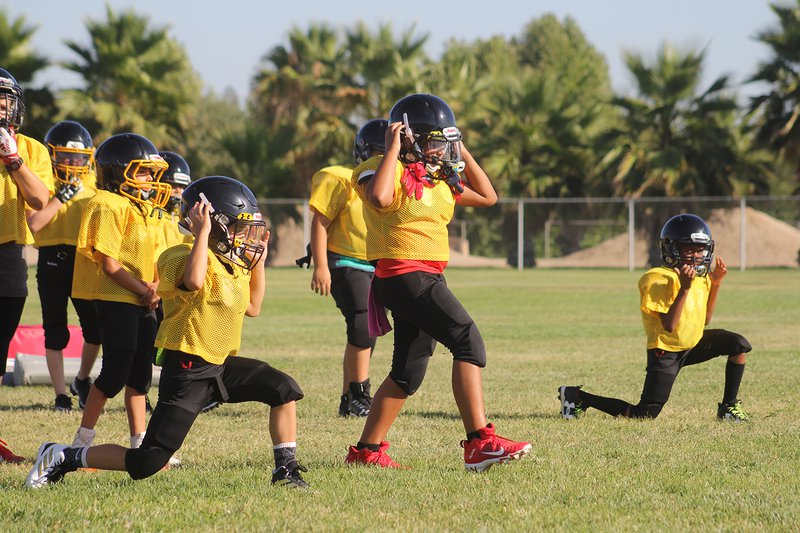 "What is most rewarding to me is getting a guy who can barely strap up his helmet and then towards the end of the year, we can see them ball out. I have seen it," said Varsity head coach John Coelho. "It becomes tough to point out the kids who had not played because they grew so much and it is a lot of fun for me, I really enjoy that." 
Jerry Ragsdale leads the Junior Novice level, 6-8-year-olds.
"For me it is to keep the kids coming back, keep it fun and a great experience for them to be part of it," said Ragsdale. "We don't want to make it so competitive; we don't want them to lose the love and passion for the most part. We want them to have a good experience, that is my expectation anyways." 
This will be the first year that the Hornets are competing in the Trans Valley Youth Football League, while also cutting one of three age group divisions.
Now there are four levels altogether with the JN being the youngest of the four. 
The other levels include Novice (9-10-year-olds), Junior Varsity (11-12-year-olds) and Varsity (13-14-year-olds). 
"It is about the kids and giving back to the community," said Ragsdale. "I gave back to my kids at Denair, while they went there, and my grandkids are coming in and I am just an old timer trying to help out the kids and motivate them and keep them engaged. I enjoy kids and it is great to see them evolve." 
At the Novice level, head coach Shane Sequeira is eager to lead a group that was one victory away from reaching the Super Bowl last season. 
They kicked off the season going 7-1 before they fell in the first round of playoffs after a delay following the bad air quality moments from last fall. 
"We had a first-round bye then we had several weeks off because of the bad air quality and that really hurt us," said Sequeira. "But overall, we want to build a family-oriented environment where kids can learn to play safely, have fun and still be competitive." 
Sequeira is expecting a strong effort from his team, which will be led by Alex Ventura and Moury Gilliam III. 
"We have to craft all levels since we have a lot of kids that have never played football," Sequeira added. 
At the JV level, Jimmye Absood is the first-year head coach and couldn't be any more thrilled about the opportunity. 
"It's a new experience and I'm learning as I am going, but at this level they have great knowledge," said Absood.  "We're teaching them what we know about the high school level, that way they are accustomed to it." 
It helps that Absood has a plethora of athletic talent on the roster to work with. 
 "JV team looks athletic, when we had our pre conditioning workout, I had kids putting in 110 percent, showing they want to be out there, showing they can compete and they will," said Absood. "We have a highly athletic squad. I expect them to compete and be leaders."
At the Varsity level, the team is stacked with eighth graders for the most part and they are expecting to compete and continue their growth in the game of football before they head into high school. 
Even though they're the oldest group level, Coach Coelho said he also has a number of players new to the sport.
 "The good thing is they will have one year of football under their belts; they won't go in high school having never played," he said. 
Look for the Varsity squad to continue progressing as the year goes on.
"All kids who make an effort and go to practice, they are eligible to play. They all will play in the game and all will be an important part of what we do," said Coelho.
First game for all levels is slated to be against the Merced Blue Devils from Joe Debely Stadium beginning at 1 p.m. Aug. 17. 
"There is a lot of support and we like that," Coelho added. "Lot of fun, the community does a lot to support the team, great support and volunteer group as well, they are all involved, cheerleading including and a nice thing to do."