Stanislaus County officials got the first modeling projection this week for COVID-19 and it shows a surge of cases could hit the area anywhere between four to eight weeks from now.
The projection is based on a model from the University of Pennsylvania and was distributed to all health departments in the state by the California Department of Public Health. This version is purely mathematical and only goes 60 days out. Stanislaus County Chief Executive Officer Jody Hayes said the county is expecting another model to be distributed next week, perhaps one from the University of Washington, which is often used by the White House coronavirus task force.
"All models are wrong in some way, however, if you have an effective model it can be useful," Hayes said.
Version one of the model shows when Stanislaus County could hit hospital bed capacity, both if no actions are taken and if at least 40 percent of the population is practicing social distancing.
If no actions were taken, the number of confirmed cases would surpass the 1,200 local hospital beds starting next week. With a 40 percent compliance on staying at home and sheltering in place, the county will surpass the number of hospital beds sometime around the first or second week of June, according to the model.
Hayes said all the models the County has seen reach that same conclusion, which is why the community has to focus on maintaining the social distancing guidelines and stay at home as much as possible.
"Our behavior today is going to be reflected in how our hospitals look in the next four to eight weeks," said Stanislaus County Public Health Director Dr. Julie Vaishampayan. "We know this is coming at us and we need to do everything to prevent it from happening here."
While Stanislaus County has 1,200 hospital beds, it doesn't mean that all those beds are available. Officials looked at Tuesday and found 522 hospital beds were in use and 691 were available. In ICU, 121 beds were in use and 30 were available. There were 57 ventilators in use that day and 134 available.
The County does have a plan to use the old Scenic General Hospital in Modesto as a surge care location, which would add another 110 beds. The County is currently working on a staffing plan for the facility and another plan for another surge site if that one reaches capacity. Hayes said it would probably a field hospital, but didn't specify where it might be set up.
Stanislaus County recorded the first COVID-19 death on Friday as the number of confirmed cases rose to 116.
The death was of an adult man with underlying medical conditions, according to the Stanislaus County Health Services Agency.
"We wish to share our heartfelt condolences to the loved of ones of this person. This death reminds us of the seriousness of this disease and Stanislaus County is taking necessary steps to slow down the spread of the disease and to protect those at greatest risk," Dr. Vaishampayan said. "While public health is doing everything possible to mitigate the impact of this disease in our community, we can only flatten the curve if everyone takes social distancing seriously."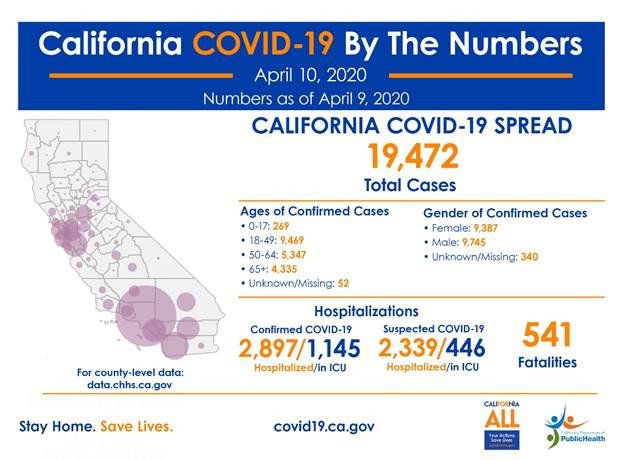 Of the 116 cases in Stanislaus County, 59 have recovered and 36 are hospitalized. The case breakdown by gender is 60 men and 56 women.
The age breakdown of cases in Stanislaus County is four among 0-17 years; 58 in 18-49 years; 33 in 50-64 years; and 21 in those 65 years or older.
Modesto has the most cases with 53, followed by 20 in the unincorporated areas of the county. Ceres has 11 cases and Patterson 10. Riverbank, Turlock and Waterford have five cases each. Oakdale, Hughson and Newman each have between one and four cases, though the health department didn't state how many in each city.
Merced County has 52 cases, with 41 active, eight recovered and three deaths. The Merced County Health Department said 24 cases were in east Merced County and 28 were in west Merced County.
On Thursday, 10 healthcare workers from the Sutter Health Rural Health Clinic in Los Banos tested positive for COVID-19. Clinic staff is working with public health officials to identify and contact all individuals who may have been exposed. The clinic is currently closed to allow for proper disinfection and notification procedures.
"I would very much like to applaud the cooperation of Sutter Health and this facility with the Merced County Public Health Department in their efforts to slow the spread of this illness by assisting in the identifying and contacting all those possibly exposed and in bringing their health care facility back on-line rapidly and safely," said Merced County Health Officer Dr. Kenneth Bird.
Stanislaus County is currently getting a D+ for social distancing, according to data from Unacast, which looks at the GPS data from cell phones to track movements. However, the data doesn't take into account the agricultural roots of the county and all the work that has to continue outside of the home.
Dr. Vaishampayan said Stanislaus County is likely nearing the peak of transmission of the virus. The peaks work like dominoes, with one aspect falling into another. Typically, symptoms appear within two to 14 days of being infected. Once symptoms start showing, it's usually in the second week of the illness that people experience the worst of the symptoms. Weeks after the peak of transmission is when we would see the peak of hospitalizations. The average rate of hospitalization is around seven days, unless a person has to be put on a ventilator and then the average is about 10 days. The peaks in deaths would hit a couple weeks after the peak in hospitalizations.
The Centers for Disease Control and Prevention has identified the most common symptoms of COVID-19 as fever, dry cough, fatigue, muscle aches, headaches and shortness of breath. The World Health Organization has reviewed 55,000 cases from China and found gastrointestinal problems were also reported with some frequency.
Researchers using a smartphone app to track symptoms of COVID-19 confirmed patients around the globe also saw frequent reports of people losing their sense of smell and sense of taste. In some cases, people also reported coming down with pink eye.
Severe cases of COVID-19 might experience difficulty breathing, pain or pressure in the chest, confusion or inability to arouse and bluish lips or face. If you are experiencing symptoms of COVID-19 and may have had contact with a person with COVID-19 or recently traveled to countries with apparent community spread, call your healthcare provider or local public health department first before seeking medical care so that appropriate precautions can be taken.
The best way to prevent illness is to avoid being exposed to this virus. The virus is thought to spread mainly from person-to-person between people who are in close contact with one another (within about 6 feet). This occurs through respiratory droplets produced when an infected person coughs or sneezes. These droplets can land in the mouths or noses of people who are nearby or possibly be inhaled into the lungs. Older adults and people who have severe underlying chronic medical conditions like heart or lung disease or diabetes seem to be at higher risk for developing more serious complications from COVID-19 illness.
As Stanislaus County Public Health continues to work with the Emergency Operation Center in addressing the COVID-19 pandemic locally, it is critical that individuals and organizations take critical steps in slowing the spread of the virus by following all applicable guidance and recommendations, including:
·       Practice social distancing which means stay at least 6 feet away from others.
·       Avoid ALL non-essential activities that involve close contact with the general public
·       Wash your hands often with soap and water for at least 20 seconds. If soap and water are not available, use an alcohol-based hand sanitizer that contains at least 60% alcohol for at least 20 seconds
·       Limit close contact with people who are sick. Try to stay at least 6 feet away from someone who is sick
·       Routinely clean and disinfect frequently touched objects and surfaces
·       Do not share objects such as utensils, cups, food, and drink
People can receive updates about COVID-19 in Stanislaus County by texting STANCOVID19 (all caps) to 888777 to receive updates from the Stanislaus County Office of Emergency Services.