Local organizations and community members gathered on Saturday for the 11th annual Love Turlock day of service. Hundreds of volunteers worked together to complete 27 different community service projects across the city.
Activities included organizing hygiene kits for homeless individuals, landscaping, litter cleanup, used clothing collections, recycling collection and graffiti removal amongst many other things.
"It is so amazing to see everyone out here to show their love for Turlock," said Mayor Amy Bublak. "Today is all about giving back and having fun doing it."
Turlock's Holly Evans was stationed at the United Samaritans headquarters making hygiene kits for homeless individuals. She has participated in Love Turlock for five years and shared Bublak's sentiments regarding the annual event. 
"It's so fun. Every year I usually do a different activity and I always have a great time," Evans said. "I've always done community service. I think it's great that they have it in the high school and I think it's great for everybody to help in Turlock and show your appreciation for your community."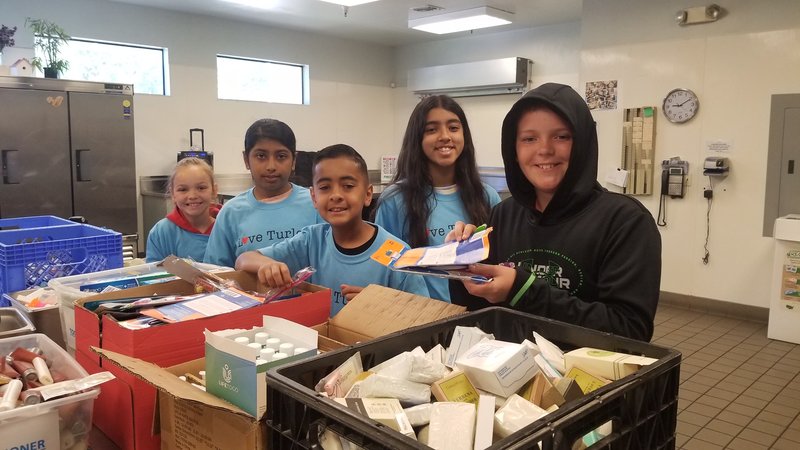 As Evans referred to, the younger generations of community members were also heavily involved in many of the day's events. Elementary aged children took part in several arts and crafts activities, such as making appreciation cards for Turlock's first responders.
Organizations from Stanislaus State University also participated in activities throughout the day. The women's soccer team adopted a local park at the Turlock Sports Complex and helped pick up litter as well as repaint many of the sidewalks. Members of the volleyball team helped create appreciation cards and hygiene kits while members of the men's basketball team pitched in at numerous stations.
One of the newest activities at Love Turlock this year was the Teddy Bears of Love. Janet Blair of the Turlock Church of Christ led the efforts of making the teddy bears and explained the meaning behind the project.
"The teddy bears will go to either the fire department, the police department, or another organization that works with children who might be in a crisis situation," she said. "Sometimes the children at that point need something like these teddy bears that they can hold and cuddle and love and helps them get through the crisis that they're dealing with at the moment."
Another new addition in this year's activities was the clothing and stroller collection for Afghan refugees. Over 100 bags and boxes of clothes were donated throughout the day.
Love Turlock Chair Lindsay Plett expressed her joy upon seeing the large turnout and participation from community members.
"This is such an incredible day to love our city. We couldn't do it without all of the volunteers and our sponsors," Plett said. "Without them, we would not have the resources to complete these projects and make today such a special day."
Love Turlock is expected to return for its 12th year next April.