A Newman police officer attempting to stop a suspected drunk driver was shot and killed early Wednesday, the Stanislaus County Sheriff's Department announced.
The deceased was identified as Cpl. Ronil "Ron" Singh, 33, of Modesto. Cpl. Singh was a native of Fiji and had been employed by Newman Police Department since July 2011. He is survived by his wife, an infant son, his parents and one brother.
The Stanislaus County Sheriff's Department has been leading the investigation into Singh's death. On Friday morning a multiple law enforcement agency manhunt led to the arrest of the shooting suspect in Lamont, a small town outside of Bakersfield in Kern County. He was identified as Gustavo Perez Arriaga, 32.
Stanislaus County Sheriff Adam Christianson said Arriaga was in the country illegally, having crossed over the border into Arizona several years prior.
"This suspect, unlike Ron, who immigrated to this country lawfully and legally to pursue his lifelong career of public safety, public service and being a police officer —this suspect is in our country illegally," Christianson said. "He doesn't belong here. He's a criminal."
Cpl. Singh called off on a traffic stop at Merced Street and Eucalyptus Avenue in Newman at 12:57 a.m. Wednesday. A few moments later he called out shots fired over the radio. Multiple agencies responded to assist and Singh was found at the scene with gunshot wounds. He was transported to Emanuel Medical Center in Turlock, where he was pronounced deceased.
Christianson said Singh was stopping the vehicle for a suspected driving under the influence. He said there was an exchange of gunfire, but there was no evidence that the suspect was wounded.
The suspect had fled the scene in his vehicle prior to assisting officers' arrival. A gray, extended cab Dodge Ram pickup was seen in the area at the time of the shooting. Wednesday evening the sheriff's department found the truck at a mobile home park in the 26000 block of River Road just outside of Newman.
The sheriff's department developed information that Arriaga was trying to flee to Mexico and had a lead that he was at a home in Lamont. The home and a vehicle were kept under surveillance for more than 24 hours before Arriaga was taken into custody.
"We were never more than a step behind this guy," Christianson said.
Kern County Sheriff Donny Youngblood said they had multiple locations under surveillance in connection with Arriaga. Early this morning investigators obtained a search warrant for the home in Lamont and as the SWAT team was setting up around it, Arriaga came out of the home with his hands up and surrendered to law enforcement. Arriaga was not armed at the time of his arrest.
"When you use a firearm against a police officer you can run, but you can't hide," Youngblood said.
In addition to Arriaga, the Stanislaus County Sheriff's Department has arrested two other men in connection with the homicide.
Adrian Virgen, 25, and Erik Razo Quiroz, 27, were taken into custody on Thursday on allegations they intentionally lied and gave misleading information to law enforcement in an effort to protect Arriaga and aid his escape from arrest. Virgen is Arriaga's brother and was arrested in Hanford. Quiroz is his co-worker and was taken into custody in Modesto. Both were arrested on suspicion of being accessories after the fact in a felony. Christianson said both men were in the country illegally.
The Kern County Sheriff's Department took three more people into custody at the Lamont home on allegations they had been harboring Arriaga. Arrested were: Bernabe Madrigal Castaneda, 57; Erasmo Villegas, 36; and Maria Luisa Moreno, 57. They were arrested on suspicion of aiding and abetting.
"We believe more arrests may come," Youngblood said.
The capture of Singh's suspected killer was welcome news to his younger brother Reggie Singh, who made an emotional statement of gratitude at the Friday press conference announcing the arrest.
"Thank you from the bottom of my heart for making this happen," Reggie Singh said.
Singh was a K9 handler, and his canine Sam was in the patrol car at the time of the shooting, but was not able to get out of the vehicle. Sam will remain with Singh's family and not be reassigned to a new officer, said Newman Police Chief Randy Richardson.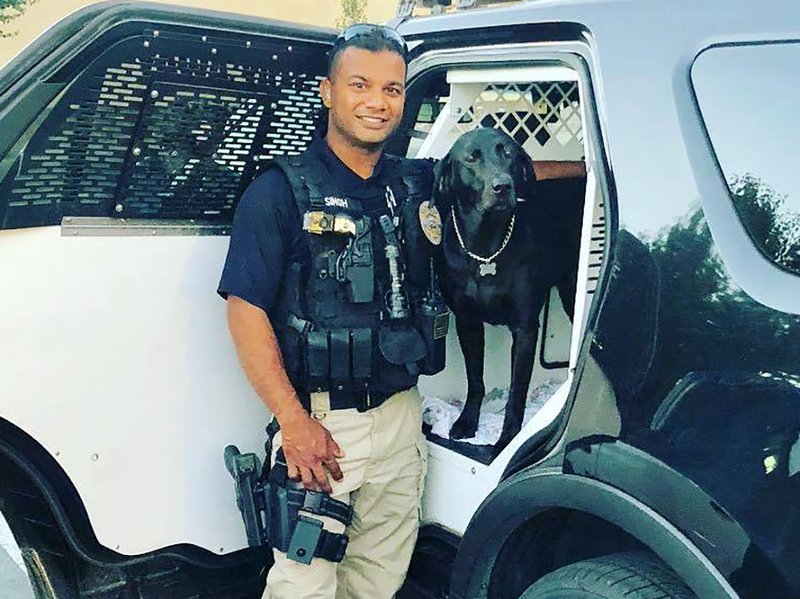 Singh came to the United States with a determination to serve and wasn't going to let any obstacle stop him, including a long commute to the academy in Yuba County, or his thick accent. English was Singh's third language and he took speech classes to make sure his radio calls would be clear for dispatch.
Richardson said Singh was one of his first hires when he became chief and he was continually impressed by the young man's dedication to duty and his pleasant demeanor. This death marks the first line of duty death the Newman Police Department has ever sustained and it is having a heavy impact on the small community.
"This is not a big department," Richardson said. "This is a department of 12. This is a man I would see every day he worked. This is a man I relieved on Christmas Day so he could go home and spend time with his family and his newborn child.
"You have to understand that this was not supposed to happen here," Richardson said. "I've been to too many of these funerals and I never thought, ever that I would have to be doing this. My department is hurting. We are struggling through this … we're a family.
"He has a 5-month-old son that he will never hear talk," Richardson continued. "He will never see his son walk. He doesn't get to hold that little boy, hug his wife, say goodnight anymore because a coward took his life."
Singh started his law enforcement career as a volunteer with the Modesto Police Department and then served as a cadet and animal service officer with the Turlock Police Department. He worked in Turlock from 2006 to 2010 and then joined the Merced County Sheriff's Department as a deputy in 2010. He graduated Modesto Junior College in 2009 with a degree in criminal justice.
"His dream and desire was to be a police officer and to be there to serve his community," said Turlock Police Chief Nino Amirfar. "He chose to be the light in the darkness and to do so without hesitation. We are all devastated and are in mourning. He was loved and will always be in our hearts."
Outside of being a police officer, Singh enjoyed spearfishing, riding his jet ski and hunting.
Christianson said Arriaga has had two previous arrests for driving under the influence from the Madera and Chowchilla areas. He had no long-term employer and worked as a farm laborer off and on for several years. He has multiple Facebook profiles under different names, some of which promote his involvement with the Sureno gang.
Arriaga's status of being in the country illegally prompted Christianson to take California politicians and the passing of SB 54, also known as the "sanctuary state" bill to task. SB 54 puts limitations on local and state law enforcement agencies in regards to federal immigration inquiries and investigations.
"We can't ignore the fact that this was preventable," Christianson said of Singh's death. "Why are we providing sanctuary for criminals, gang members? It's a conversation we need to have."
Arriaga is being transported back to Stanislaus County to face murder charges. He could potentially be facing the death penalty.
Richardson shared that Singh's handcuffs had been sent to Kern County and were being used to detain Arriaga on his ride to Stanislaus County Jail.
The Stanislaus Sworn Deputies Association has established a Cpl. Ronil Singh, Newman PD Memorial Fund. Donations can be made several ways:
In Person: At any West America Bank Branch to the Corporal Ronil Singh Memorial Fund (Newman Police Department)
Mailed to: Stanislaus Sworn Deputies Association, Corporal Ronil Singh Memorial Fund, PO Box 2314, Ceres, CA 95307
Online: at https://www.stanislaussworn.com/donation.html.