Prior to the start of the 2022-23 boys basketball season, Turlock High coach Nick Nathanson spelled out for the media one of his core philosophies: holding opponents below 50 points per game was among the most important. 
After giving up 19 first-quarter points to archival Pitman, sub-50 not only seemed out of the question, but a win was also a shaky proposition.
Nevertheless, the Bulldogs withstood the Pride's initial blast and clamped down defensively, yielding just 18 points the remainder of the contest enroute to a 63-37 Central California Athletic League win Friday night at Bulldog Arena. 
"They made some shots early on that were real tough shots," said Nathanson, whose team improves to 13-9 overall and 3-1 in CCAL action. "It just seems that when teams get out to a hot start, they eventually go cold. We didn't think that kind of shooting was sustainable."
It wasn't. 
After trailing 19-14 after the first quarter, Turlock held Pitman to just 10 points in the second quarter and led 32-29 at the intermission.
The Pride would score just six points in the third quarter and a mere two in the final eight minutes of action.
"They seemed to withstand that initial shock and then they settled in and started playing," said Pitman coach Harvey Marable, whose squad dips to 14-7 and 2-2 in league after suffering a second consecutive CCAL loss. "And I think that kind of stunned us."
If Pitman was, indeed, stunned, then it was Turlock's Jed Ladine who did most of the stunning.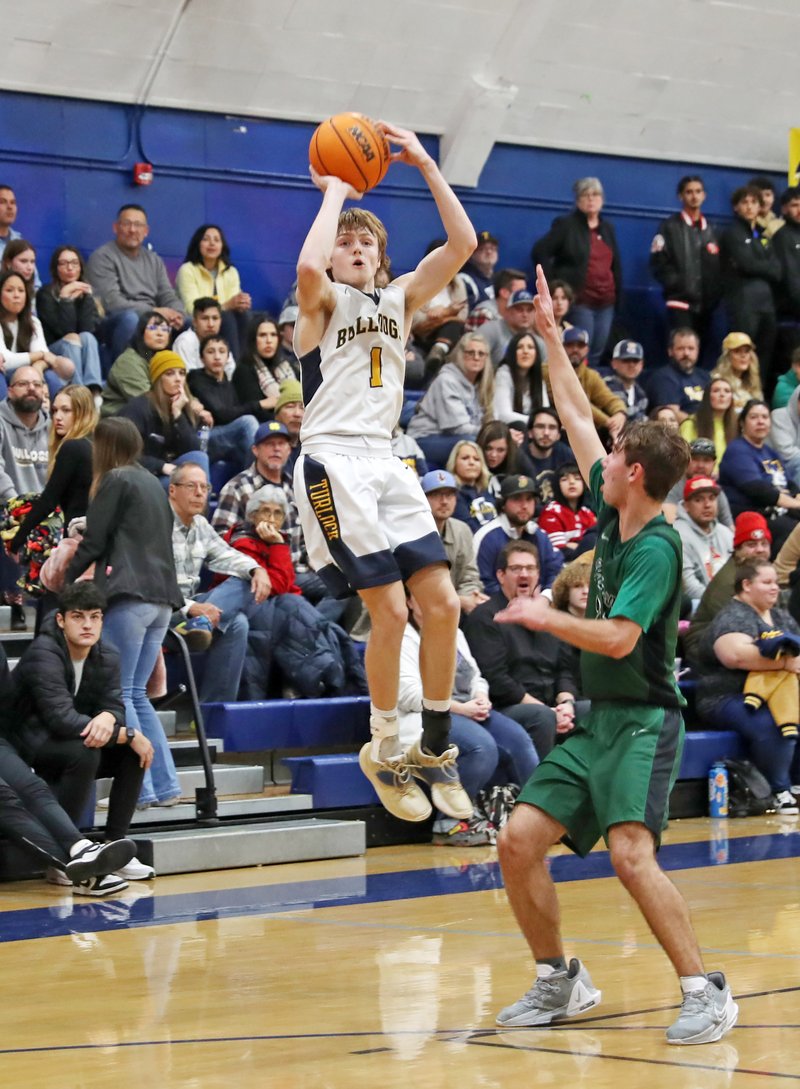 The senior point guard scored a game-high 23 points — all of them coming in the first three quarters — and played with an energy that seemed to say, "Get on my back, fellas."
"We were just kind of playing with our food for a little bit," said Ladine, who came in averaging 19 points per contest. "But then we put our foot on the gas and took it to them, and we knew we couldn't let them creep back in. I hope this is a turning point for the rest of our season."
Nathanson liked what he saw from his senior leader.
"He doesn't need to settle for the tough shots," said Nathanson. "When he goes to the basket, nobody can stop him. And when he doesn't settle, he makes everyone else better."
Like Dutch Lawrence, for instance. The sophomore guard — Ladine's cousin — scored 12 points, all coming on three-point field goals and all coming at pivotal moments.
"I started to feel more confident in the Central Catholic game," said Lawrence, referring to the Jan. 7 contest in Modesto. "I knew Jed was out that game and I had to step up. Once I hit one shot, I feel confident that I can keep hitting them."
Lawrence's first trifecta came at the end of the first quarter, shaving Turlock's deficit to a more comfortable five points. His next bomb came at the end of the third quarter, giving the Bulldogs their first double-digit lead of the game at 45-35. The last two treys came on back-to back possessions early in the fourth that stretched a 47-35 advantage into a 53-35 cushion.
Center Gavin Cox, coming back from an ankle injury, laid in a bucket minutes later to put the 'Dogs ahead 55-35 with 4:51 to play.
Jordan Williams finished with 11 points for Turlock after being held scoreless in the opening eight minutes.
Offensively for the Pride, guard Avery Sanchez led the way with 13 points, while senior Grant Vilhauer contributed nine points, all from downtown.
"They started making adjustments to what we wanted to do to them," said Avery, a 6-foot sophomore. "We were just in the locker room talking. We're a winning team and we've got to get back to being us. We've got to watch film, come back Monday and practice hard, come back Tuesday and practice hard, and then get back at it on Wednesday."
The Pride will host Enochs — a team that beat Turlock, albeit without an injured Cox — on Wednesday at 7:30 p.m., while the Bulldogs travel to take on first-place Downey at 7:30 p.m.