Pitman and Turlock high varsity girls tennis kicked off practice this week and the excitement for a new season — and the second year in the Central California Athletic League — could not be any higher.
Turlock looks to be in rebuilding mode after losing over half their starting squad, while Pitman returns more than half of their starting lineup.
"It has been a hot summer, some girls played tennis and some didn't, but with eight returners, I expect us to be where we were last year, or better. I think this year, we may give Turlock a run," said Pitman head coach Jeff Hayes. 
Last year, Pitman made a run that saw them tie for third place in the CCAL with a 5-5 record. 
Turlock took second place with an 8-2 record in league.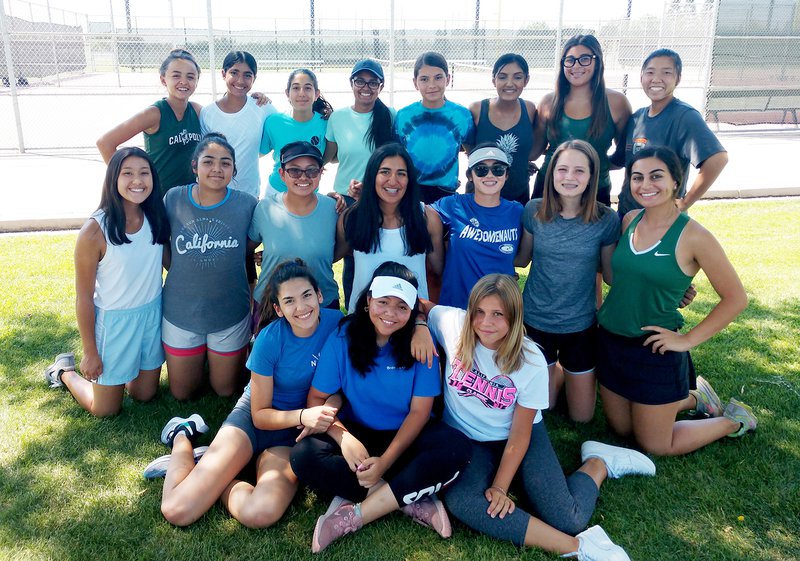 "We also took first in doubles and first in singles at CCAL tournament," said Turlock head coach Linda Bejaran. "Maya Young won an award and we still had a good season. I think we are still going to be strong; we are just young, I mean experience wise." 
Turlock lost seven from last year's team. Of the remaining returners, Calista McShane is expected to be the top singles player. 
McShane joins seniors Taylor Griffin, Claudia Chan, Miriam Aguirre and Lizbeth Soltera among the top players this year. 
"The coaches are very enthusiastic about our senior leaders, under them, our other girls are going to flourish. They are a great group of girls, hard workers, eager to learn. The senior captains, without them, our job would be much tougher," said Bejaran. "We are young as far as match play, they can keep the ball in play, but they don't have that match play like in the past. I am confident still. We will still be a team to beat, but I don't see us being first."
Turlock welcomes 10 brand new players to the program, with a total of 22 on the roster. 
Pitman is currently boasting a total of 20 players on the squad. Among some of the top players that Hayes expects big things from are Anh Luu, Jenna Greene, Jacquelyn Mendez, Chuc Luu, Alice Stessman and Katrina Hawley.  
"Doubles, we are still trying to figure out who will play with who, but we have an experienced team, should be a stronger team than last year," said Hayes. "These girls are great, with the four seniors on the squad, we've got a solid group of leaders and a lot of young kids right now."
This year, Hayes also welcomes a new assistant coach in Kim Hawley.
"She is a team mom and did an amazing job last year, so good that she is now my assistant," said Hayes. 
Pitman will kick off league play at Modesto High at 3:30 p.m. Sept. 17. 
Turlock stars league play at home against Gregori at 3 p.m. Sept. 17.