Turlock High's Jonah Kosakiewicz won the Most Valuable Player and Offensive Player of the Game honors for the South squad in Saturday's 19-18 loss to the North squad in the Lions All-Star football game from Alex G. Spanos Stadium at Lincoln High of Stockton.
"It is a lot of fun. I grew up playing with a lot of these kids and it is fun to come out senior year and have one last hoorah; it has been a fun week and fun game," said Kosakiewicz. "The coaches have been great; we had a good time in the dorms. We made lifelong friendships and those are all the positives that come out."
Alongside Kosakiewicz were local standouts from Pitman Scott Tyler and Matt Robinson and Denair High's Steffin Winston.
Tyler and Robinson each saw the field for at least half the game.
"I had a lot of fun coming in the game, this whole week leading up to it was fun and we were connecting as a team," said Tyler. "I had high expectations going into the game and I didn't meet them since I hurt my knee early on and it affected my ability, but overall it has been a great time with the guys."
"I expected this to be really close, but I wanted my team to win the game and that was the main goal and we did well till the end," said Robinson. "I definitely feel like I played to my expectations, maybe even better. I had a couple plays here and there, but overall it was a team effort, everyone is playing well and I am not trying to single myself out. This is awesome, I could not have asked to be part of a better team, especially coming off the year we had. Being able to play with all these guys in this All-Star game is an honor.Robinson and Tyler are coming off a memorable and record-breaking season for the Pride, which won their first nine games of the regular season and ended up tying for the most wins in a single season in program history with 10.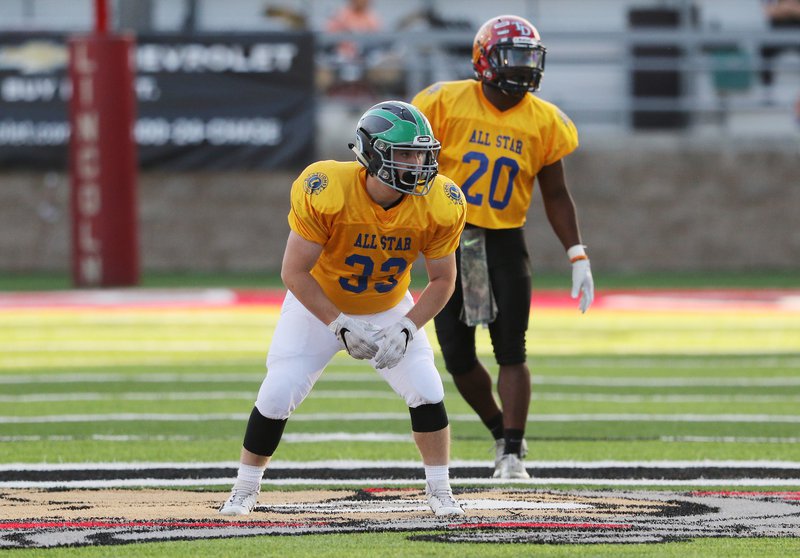 They ended up with a 10-2 record in the final year with head coach Tom Tyler.
Denair's lone representative Winston was coming off his best year and the Coyote program's best finish ever.
They notched their first ever Sac-Joaquin Section Championship after winning it in Division-VII. They clinched the program's first ever CIF State Championship.
"It was a great experience and a lot of fun out here with my brothers, it feels nice," said Winston, who played on his birthday. "It was a lot faster pace early on as well, but it was a great experience, especially for everyone who loves football and to continue on, and it is just a lot of fun for both teams. I was able to compete out here, but it was tough in the first."
Winston also played half the game.
During the game, Kosakiewicz scored the first two touchdowns for the South.
He rolled to his left from one yard out in the first quarter and ran it in to tie the game at 6-6 with 3:20 left till the end of the first.
The game remained tied until halftime.
Coming out into the third, Kosakiewicz led one more scoring drive that ended with a 62-yard touchdown pass to Trey Longstreth to go up 12-6 with 10:34 left in the third quarter.
Following over half a dozen scoreless drives, the North team had tied it at 12-12 with 10:23 left in the fourth quarter.
Zaire Eugene scored the South's third and final touchdown after running it in from nine yards out to make it 18-12 with 2:53 left in the game.
The North followed up with a tying strike and the go-ahead extra-point which made it 19-18 with 2:26 left in the game.
With Kosakiewicz on the bench, head coach Shaun King looked to Davis quarterback Xavier Rodriguez, who nearly led a final scoring drive, but was cut short when a contentious rushing touchdown was called back and a flag on the final field goal attempt was waved off.
"I wish maybe I went one or two more drives, but I just enjoy going out and playing ball with my friends," said Kosakiewicz. "So, it is a fun time to play with them, I just wanted to help the team win if I could, it was unfortunate, but it was a fun game and fun week and I was privileged to be part of it.