The Turlock and Pitman high school track teams have been running, jumping and throwing to new records all season and will meet one final time next Wednesday.
After last season was cancelled due to the pandemic and this season shortened, THS coach Bergann Hernandez said it has felt great to be back on the track with the team although it was hard to overlook the missed opportunities from 2020 and all of the work that was lost.
"We spent a good part of the beginning of this season still working through the anger and loss of the 'what could have beens' of last season. But once we got rolling into the season, we let that go and focused on the meets and competitions ahead of us. We realized we missed working hard and pushing each other to be better," Hernandez said. "Win or lose, they leave it all on the track and that is the best way to be. Uncertainty is gone now and now we want to get as much as we can out of the time we were given."
PHS coach Kris Shaw said that the goal for the season has been to stay healthy, focus on technique and form and, most importantly, let the kids have fun.
"It is hard coming back after over a year without organized activity, but I thought our athletes did great in not only the competitive aspect but also ushering in underclassmen who got their first taste of high school track," Shaw said. "...The kids were excited to compete and it showed."
Both schools started Central California Athletic League play off on positive notes April 28, with Pitman defeating Downey and Modesto in all three divisions while Turlock's teams won by a large margin over Gregori and Enochs. 
The Pride's performance was highlighted by sophomore Maci Day, who helped both relays win and also won the 1600-meter and 3200-meter races. Senior Jarod Moren, who recently signed to participate in track and field at Pacific University, won the pole vault with a personal best jump of 13 feet, 6 inches. Other standouts include junior Mimi Verdone, who won both hurdles and long jump while also placing third in triple jump, and freshman Blayne Siebert who won the 100-meter race and placed himself on the top-10 list all-time at Pitman with a time of 11.38.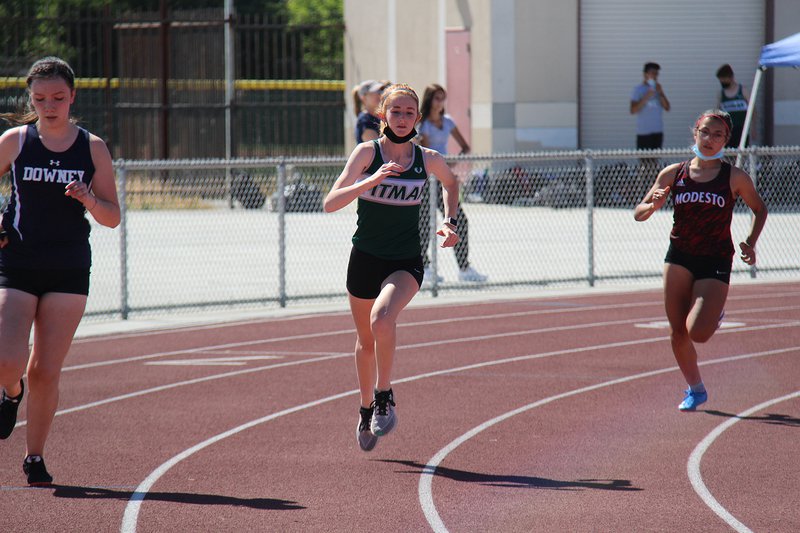 Turlock standouts at the April 28 meet included top scorers juniors Calvin Kirchoff, who won the 300-meter hurdles among other events, and Kylee Redman, who broke her own THS record in the 100-meter dash with a time of 12.31; she's gone on to break her records every time she's run this season, Hernandez said.
"In my opinion they have competed amazingly well, and in many cases exceeded my expectations," Hernandez said. "They are strong competitors and have worked their craft to get the most out of the few weeks we've been together."
Both schools also impressed at the Stanislaus County Meet in Hughson on May 7, where Redman set a new meet record in the 100-meter with a time of 12.45 and anchored the 4x100 relay win for the Bulldogs. Pride junior Damian Garcia set a new meet record in the 1600-meter race with his time of 23:81. 
Pitman won the boys team title at the county meet with top scorers Joey Stout and Siebert.
Other standout track stars at THS include Ian Strode, who jumped 14 feet, 6 inches in the pole vault and was ranked No. 3 in the state last week, as well as freshmen Olivia Walker, Shaylynn Roy-Williams, Ava Torres and Cali Brem, who have served as some of the season's top scorers despite their youth. 
On Wednesday, Turlock will host Pitman for the final CCAL meet of the year starting at 2:30 p.m. at Joe Debely Stadium.