Stanislaus County Sheriff Jeff Dirkse was visibly moved as he addressed a crowd of roughly 300 that gathered on Monday at Turlock Memorial Park for a Memorial Day event.
Dirkse, re-elected as sheriff in 2022, is a 1994 graduate of West Point where he played on the rugby team. He proudly wears a bracelet that features the names of all West Point rugby players who have been killed in combat over the years, including his friend and teammate Guy Barattieri.
"It's one of the few things that will ever get me … Memorial Day," said Dirkse, whose son also plays rugby at U.S. Military Academy. "When I was a commander in Iraq, five of my soldiers were killed in action, and it's a tough thing. These guys all paid that price and not a day goes by that I don't think of them in some way.
"I don't remember who said it up here today, but for the most part, people join the military for some sense of duty, patriotism, free college, whatever it is. But when people actually fight, they fight for the people they're with. There is a very strong bond that most people, who have not been in that situation, don't understand."
Dirkse was one of three local elected officials who spoke during the ceremony, joining Mayor Amy Bublak and Rep. John Duarte, R-Hughson.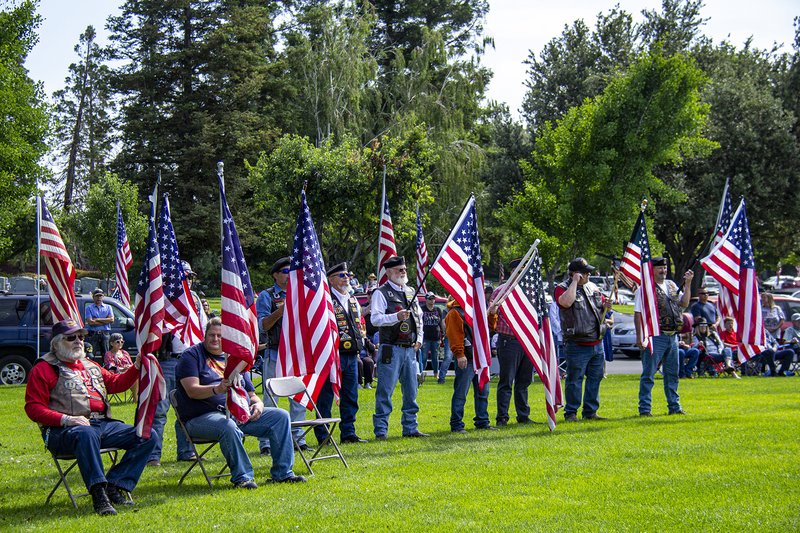 Stanislaus County District 2 Supervisor Vito Chiesa was in attendance.
"It's an honor to come and honor the fallen who have made our democracy possible," said Duarte, who spoke the day before at the San Joaquin Valley National Cemetery in Santa Nella. "Everything we do today in the Capitol is built upon the sacrifices made by our soldiers over the years, delivering and defending democracy."
Also delivering prepared remarks were American Legion Post 88 Commander Carl Lassiter, Vice Commander Bob Boyd, VFW Post 5059 Commander Wardee "Gunner" Bruce, and Christopher Watts of the county's Veterans Advisory Commission.
"Today is not a day of celebration," said Lasiter, also a member of the local VFW post. " Today is a day to remember our brothers and sisters who did not get to come back home. They are the guests of honor today … and they cannot be here."
The opening and closing prayers were delivered by Post 88 Chaplain Rob Todd, Annika Erickson sang "The Star-Spangled Banner" and "God Bless America," and "Taps" was performed by Robert Johns.
The Hilmar Community Band performed "America the Beautiful" in addition to the fight songs for each branch of the Armed Forces.
Turlock realtor Mark Libby served in the U.S. Navy from 1970-74 and was stationed at Naval Medical Center in San Diego and the Naval Postgraduate School in Monterey.
"I joined the Navy to see the world and I never made it out of California," said Libby, a native of Turlock, who wore a stars and stripes polo shirt, sunglasses and a straw hat.
Along with his brother, Rock Libby, a U.S. Air Force veteran, Libby makes it a point to attend the event annually.
"We come every year just to pay our respects," said Libby. "It's a great ceremony and a great event."
After the event, there was an open house at the American Legion post, followed by a picnic hosted by the VFW post.