Years ago, technical education at the high school level usually meant auto shop or welding classes. Today, Career Technical Education includes everything from hospitality, tourism and recreation to health science and medical technology.
Turlock Unified School District is utilizing Career Technical Education to provide students with real-world, hands-on training for a variety of professional sectors.
CTE provides students with the academic and technical skills, knowledge and training necessary to succeed in future careers and to become lifelong learners. In total, 2,390 high school students are enrolled in CTE in TUSD. CTE prepares these learners for the world of work by introducing them to workplace competencies, and makes academic content accessible to students by providing it in a hands-on context.
The schools that provide TUSD courses are Turlock, Pitman and Roselawn. TUSD provides students with 11 of the 15 of the California CTE industry sector courses.
"These courses are not what we previously considered vocational training," said CTE Director Tami Truax. "These are considered more high quality. We're really making sure the skills the students are learning are tied right into the industry's skills and demands."
To become an CTE instructor an individual needs to be a teacher or someone with at least four years of industry experience. After that, they go through a brief credential program to be certified to teach courses to students.
One of the CTE courses taught at Pitman is Culinary Arts, Food and Nutrition. Mohini Singh is a chef at First and Main and teaches her students what it takes to work in the food industry. The classroom is equipped with industry standard equipment to make sure the students have what they need to be successful.
"The district's vision when I got hired was to have a high-quality CTE program," said Singh. "I got the kids excited about food and we went in front of the board with the support of the school. Turlock High had an industry standard kitchen and Pitman was missing that so we said let's fix that. From my program, we have kids hired at local places."
"I want to be a chef, so to have a program like this with commercial grade equipment helps a lot with starting my career," said Pitman student Nathan Gonzales as he was prepping garlic chicken wings in class earlier this month.
At Turlock High, a CTE course that is offered is Anatomy and Physiology where students get to see firsthand what it looks like when something is wrong with human bodies. Shadi Safi teaches his students exactly what people in the medical field are going to experience. Turlock High is one of the only high schools that has an Anatomage, a 3D anatomy platform which provides students with a virtual cadaver and lets them explore different parts of the body.
"Thanks to the CTE component I'm not only able to address the human body and the systems, I'm also able to incorporate my expertise in the medical field," said Safi.
As that class is going on, there is another class upstairs called Medical Chemistry that focuses on treatment and how to address physical injuries and caretaking of patients. There are students in this class that are certified nursing assistants and got their training at TUSD.
"Medical chemistry is brand new this year," said course instructor Bernedette Galvan. "It teaches NGSS science standards through the lens of medical investigation labs from compounding pediatric medications to bullet ballistics. We also explore things such as the magic bullet that killed JFK to create polymers used in medical devices."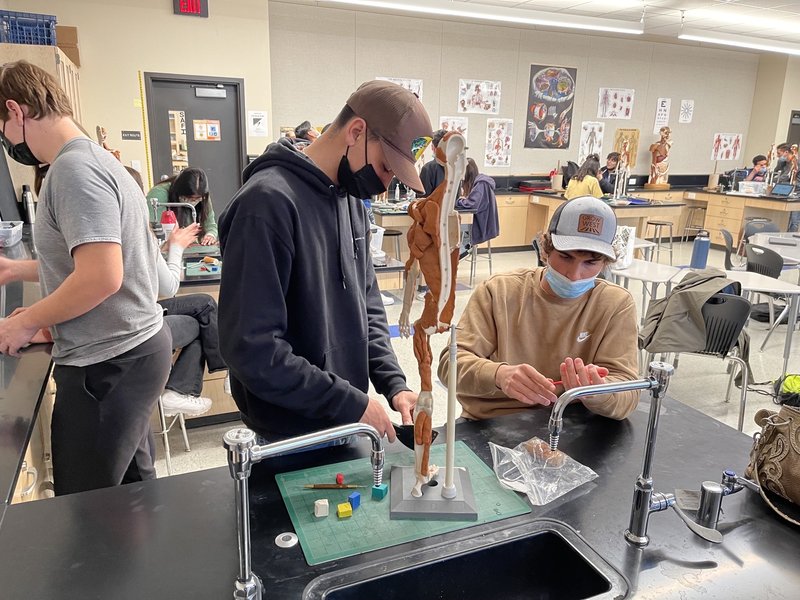 The TUSD Board of Trustees provides CTE funding through LCAP grants and Truax reaches out and gets more grants. She just secured a $800,000 grant and has secured $2 million in funding in the last three years. All the of the funding goes to the program to make sure students and instructors have the resources they need.
For more information, students and families can visit turlock.k12.ca.us/cte.